What I Would Like to Know About the Life Insurance Business if I Didn't Already Know It (or at least thought I did!)
Date:
Thursday, May 15, 2014
Location:
The Duquesne Club
Speaker:
Clark B. McCleary, CLU, ChFC, AEP (Distinguished)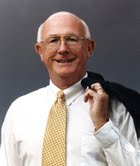 Distinguished
Accredited Estate Planners®
Clark B. McCleary, CLU, ChFC
McCleary & Associates
Clark B. McCleary, CLU, ChFC, was the 1999-2000 National President of the Society of Financial Service Professionals, formerly the American Society of CLU & ChFC. He is principal of the Houston, Texas-based firm, McCleary & Associates, and has been an agent for Guardian for more than 35 years.
A past president of the Society's Houston Chapter, in 1991 he received the Benjamin N. Woodson Award for outstanding service to the community and insurance industry.
Clark is a past president of the School of Insurance and Financial Services at the University of Houston and the Houston Business and Estate Planning Council, a charter member of the Houston Association of Life Underwriters' Hall of Fame and a Life Member of the Million Dollar Round Table.
In 2003 Clark completed a three-year term on the board of directors for LIFE (Life and Health Insurance Foundation For Education) in Washington, D.C. He currently serves as Immediate Past President of the HAIFA Foundation, which sponsors MDRT Day in Houston each January, the profits from which are contributed annually to local charities and to the MDRT Foundation.
Clark was the recipient in February of the John N. Neighbors Award, presented by the Houston Association of Insurance and Financial Advisors in recognition of service to the Association, the membership, the industry and the community with distinction and special dedication. He also was a speaker at the 2006 Million Dollar Round Table Annual Convention in San Diego in June.
This program has been approved for 1 CLE credit.
Reminder! Current EPC Pittsburgh Members may bring a first-time guest FREE of CHARGE to one meeting. Pre-registration is REQUIRED 48 hours in advance of meeting.
Networking and Registration 11:30 - Noon. Lunch and Program Noon - 1:30 PM
Related Document(s):