Pittsburgh's Legacy: Innovators that Changed the World
Date:
Thursday, January 19, 2023
Speaker:
Andrew Masich PhD, President and CEO, Heinz History Center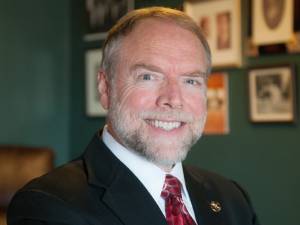 Pittsburgh is a city with a long tradition of innovation. Heinz History Center President and CEO, Andy Masich, will take us on a fun and fast-paced journey through time while looking at innovators, famous and forgotten, and their work that changed our world in big ways and small.
Andy Masich is President and Chief Executive Officer of the Senator John Heinz History Center, the largest history museum in Pennsylvania, an affiliate of the Smithsonian Institution, and accredited by the American Alliance of Museums.
Since 1998, he has provided leadership for Pittsburgh's nationally acclaimed 370,000 square-foot History Center and museum system, which includes the Western Pennsylvania Sports Museum; Detre Library & Archives; Meadowcroft Rockshelter and Historic Village, the oldest site of human habitation in North America, located in Avella, Pa.; the Fort Pitt Museum; and the nine-story Museum Conservation Center adjoining the History Center.
Under Andy's leadership, the History Center has been recognized for its award-winning exhibitions and innovative educational programs. He has forged strategic partnerships with the Smithsonian Institution, the Commonwealth of Pennsylvania, Allegheny Conference for Community Development, Boy Scouts of America, VisitPITTSBURGH, American Association for State and Local History, and 125 History Center affiliate museums in Western Pennsylvania.
Andy is an adjunct Professor of History at Carnegie Mellon University and is a recognized authority on the preservation and interpretation of history. His lively lectures on subjects ranging from American Indians to American innovation have entertained and educated audiences from coast to coast. He serves as an expert for a variety of national media outlets, including the Associated Press, The New York Times, The Travel Channel, and The History Channel. His popular "Time Capsule" history podcast can be heard daily on KDKA-AM radio and streamed on KDKAradio.com.
Masich serves on the steering committee of Made By Us, a national coalition of leading civic and history organizations that presents history in relevant, provocative and innovative ways. He is also a member of the Pennsylvania Commission for the United States Semiquincentennial (America250PA), a member of Carnegie Mellon University's Center for African American Urban Studies and the Economy (CAUSE) Advisory Board, a member of the Pennsylvania Judicial Conduct Board and a board member of the Duquesne Club.
5:30 pm ~ Cash Bar
6:00 pm ~ Dinner is served
7:30 pm ~ Event concludes
Guests and prospective members are welcome!
Note: The dinner entree will be the Duquesne Club's Virginia Spots. If you cannot eat seafood, please indicate so in the comment section of your registration, and a non seafood entree will be ordered for you.